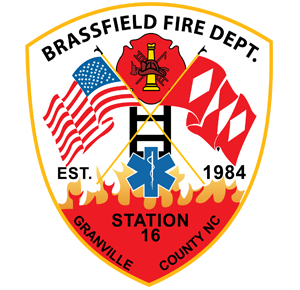 On March 5, 1984 a group of interested citizens met at the Creedmoor Fire Department to discuss the need and possibilities of a fire department in the Brassfield Township. The only fire department at the time to cover the area was Creedmoor Fire Dept. It was a very large area to cover for one volunteer department with two entire townships. The citizens saw the need to create the department for the area. A committee was then formed to get the project started and was chaired by Mr. Larry Mitchell.
This committee filed for a Charter with the State of North Carolina on March 28, 1984 as Brassfield Volunteer Fire Department. The charter was granted by the Department of the Secretary of State.
In June of 1984, regular meetings and training were held for the new members / firefighters. These meetings and training took place in Larry Mitchell's Garage to get things started!